It's official, Delmic is going to M&M 2022 in Portland, Oregon! You'll find us at the biggest microscopy event of the year. We'll be presenting our METEOR, CERES Ice Defense System, FAST-EM, and our CL solutions.
The M&M meeting will take place at the Oregon Convention Center from the 31st of July to the 4th of August this year! We are excited to be joining our US distributor Nanoscience  Instrument's booth 1034, to discuss how to apply our technologies to your research with you.
During the five days of the event, you can find our technical and sales representatives at our booth as well as at the oral and poster presentation sessions. We will present on the topics of cryogenic electron tomography solutions and ultra-fast electron microscopy workflow, showcasing our CERES Ice Shield, METEOR, and FAST-EM systems. Check out the schedule below and visit to learn more about our Cryo and Fast Imaging Solutions and their applications.
Poster Presentation 1: A high-throughput electron microscopy workflow and its applications in life sciences.
Time: Monday August 1, 3:00 pm to 5:00 pm
Session: C04.1P Artificial Intelligence, Instrument Automation, and High-dimensional Data Analysis for Microscopy and Microanalysis
Number: 932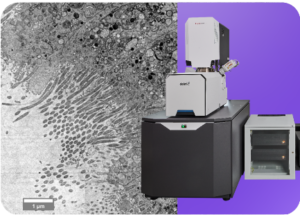 Poster Presentation 2: Improving Cryo-electron Tomography data quality and throughput by minimizing ice contamination during lamellae fabrication using CERES Ice Shield.
Time: Tuesday August 2, 3:00 pm to 5:00 pm
Session: A01.2P Advances in Focused Ion Beam Instrumentation, Applications and Techniques in Materials and Life Sciences
Number: 007
Poster Presentation 3: Correlative Cryo-FIB milling using METEOR, an integrated fluorescent light microscope.
Time: Thursday August 4, 8:30 am to 10:00 am
Session: B04.1 Correlative and Multimodal Microscopy and Analysis
Number: 285
M&M is the annual microscopy meeting held by the Microanalysis Society (MAS) and the Microscopy Society of America (MSA). The meeting features outstanding plenary speakers, symposia covering a broad range of topics, numerous educational opportunities through short courses and tutorials, and a handful of social events to enhance the networking experience. Every year, M&M attracts a larger instrument and vendor exhibition than any other event, giving the attendees opportunities to see the latest developments in the microscopy industry. Learn more on the official website.